Fighting for her life – a young dog whose throat was slashed is now hospitalized in the Society's clinic
Yesterday we got yet another painful reminder of how unbearably cruel man can be towards animals and the terrible price animals have to pay when it is their misfortune to meet up with humans who treat them so inhumanely.
During the morning a man reached the shelter run by the Society for Prevention of Cruelty to Animals in Israel, asking to hand in a mixed-breed German Shepherd. The staff immediately noticed a deep gash on the dog's neck and upon examination of the area, was shocked to discover that the dog's throat had been slashed. The person who brought in the dog, a truck driver who refused to leave any identifying details, claimed that while he was driving through a public area in Kfar Kassam, he noticed the dog tied to a fence and rushed him over to us.
Veterinary examination revealed that the dog is an eight-month-old, mixed-breed German Shepherd, badly dehydrated and suffering from malnutrition. The deep wound, that is still life-threatening, was apparently caused as a result of her being tied up for an extended period of time by a collar or iron chain. It is not surprising that after all the suffering she went through, this young dog is scared and introvert.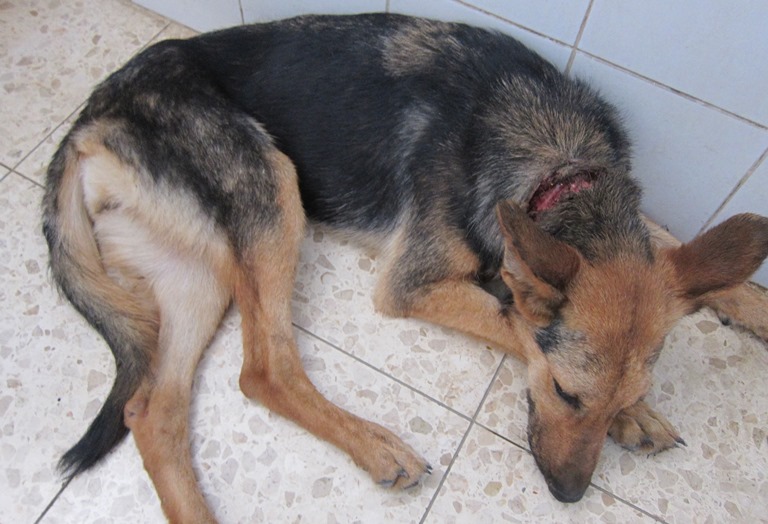 The veterinarians hurried to treat her and now she is hospitalized, receiving medical treatment and under constant medical supervision. The Society's team are working to save her life, give her a chance to survive and to find her a loving and pampering home that will make up for all the incredible suffering she underwent. "She really deserves to find a loving home" says Hagit Levy, an adoption counselor in the Society who has taken over the care of the dog. "We hope that she will survive the next few days and once she undergoes a period of rehabilitation we will make every effort to find her a warm home".
The details of the case were handed over to the Israeli Police and to Dr. Deganit Ben Dov, Supervisor of the Law for the Protection of Animals in the Ministry of Agriculture's Department of Veterinary Services, asking her to open an investigation into the case.
We call on all members of the public to keep an eye open and to be vigilant: To take note of the condition of animals and report any animal in distress that they come across. The Society can be contacted at phone number *4553. Alertness can prevent much suffering and pain.