Jennifer Fleisher, a player of the Israel national basketball team, had her cat flown to her grandparent's home in the U.S.A., with the help of the Society
Jennifer Fleisher, a member of the Israel national basketball team, grew up and was raised with cats from when she was a baby. Her family was always raising cats and she was used to playing and feeding them. At this time she is unable to have a cat in her home because she is frequently flying to France, where she plays for the Challes-les-Eaux team, to the United States, where she visits her parents and family, and to Israel to represent us faithfully in the uniform of the Israeli National Team.
While Jennifer was living in Israel, and right before she moved to France, she visited a friend in Kfar Saba. There she heard the mewing of a cat, and following the sound she found a cute calico kitten, which followed her around the streets of the city. Jennifer wanted to take the kitten with her, but because she was due to leave Israel she refrained from doing so. The next day she returned to Kfar Saba still thinking of the kitten. When she found the kitten, she decided that she could not leave it on the street, and she took it with her. According to Jennifer, this is a special kitten. "She isn't so beautiful to look at, but she has an amazing and friendly personality. I decided to call her Bella," Jennifer said.
During the following three days Jennifer tried to find an adoptive home for the kitten, but was not successful. In the meantime the two became friends, with the kitten walking after her wherever she went and even sleeping in her bed. When it came time to fly, and she had not yet found a solution for Bella, Jennifer brought the kitten to the Society for the Prevention of Cruelty to Animals in Israel – Tel Aviv. Bella, however, did not leave Jennifer's thoughts, and she continued to search for a home for the kitten even outside of Israel.
Amazingly, her grandparents, who live in California, and whose cat had just then died, expressed interest in adopting Bella. Jennifer contacted people from the Society, who after making various enquiries, began the preparations for sending Bella to the United States. Since we are talking about a long procedure, which includes a three month wait for blood tests and inoculations, Bella stayed at the cat boarding facility of the Society and was pampered by the staff.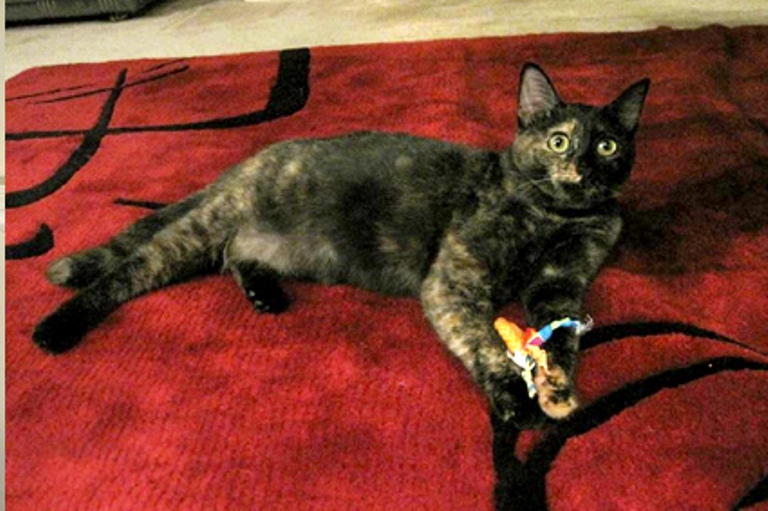 This week the waiting period was over; Bella flew to the United States and arrived safely at her new home in California. "Bella's acclimation was very quick," Jennifer tells us. "The large selection of toys that they bought her did not impress her and she prefers spending most of her time on the laps of my grandpa".