A female dog is saved from the threat of vehicles on the expressway
The roads of Israel often show shocking displays of animal corpses left on the expressways, after they have been run over while trying to cross. The vigilant Sharon District resident, Ofra Han, prevented what could have been another accident, when she took home a dog that had been wounded on a highway in the Sharon area. The Patrol of the Society for Prevention of Cruelty to Animals in Israel brought the female dog in for treatment and medical observation that lasted about a month and a half. The dog is now out of all danger and is waiting for a warm home.
Terri, a mixed terrier, was rescued from a death trap on the expressway in the Sharon area. Han noticed her while traveling in the direction of the Tzor Yigal settlement, while she was passing between two highways under the security parapet. Han contacted the Public Works Department and was told that the PWD did not handle collecting animals from the roads. Han, who noticed that the dog had an injured leg, could not dismiss Terri's situation and decided to stop at the side of the expressway. She gave the dog food and water, took her to her home and alerted the Society's patrol, which quickly brought her in for medical treatment.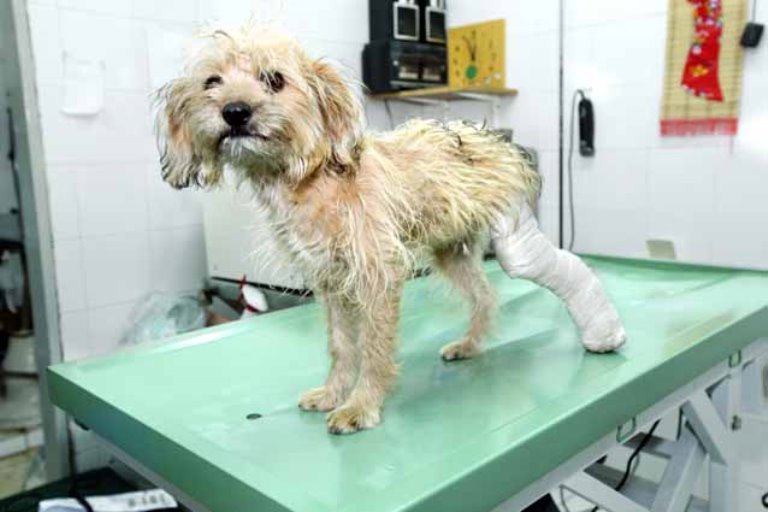 "The half year old dog came in exhausted and at the end of her strength with a possible broken leg", the SPCA's veterinarian, Dr. Ayah Peri said. "It was given general anesthesia and we feared that she was suffering from a proximal break on the tibia bone". The dog was brought to the clinic of Dr. Yoni Peres, where x-rays confirmed the fears. The dog's leg was in a sling for six weeks during which she was in the clinic of the SPCA for medical observation.
Now Terri is getting better and soon it will be possible to put her up for adoption and to give her a warm home and protection from the busy roads.