The red-haired cat that was rescued from an abandoned camp returned home due to exposure on our Facebook page and a stolen dog was returned to its owners
The Society for Prevention of Cruelty to Animals in Israel takes in every day abandoned dogs and cats that are sent to us by their owners or that are found abandoned, wounded or ill. More than a few dogs come to us without a chip, making identification of the owners almost impossible. The distress caused to both the lost dog and to its owners is unfathomable. When we manage to find the owners of abandoned animals, the joy is immense.
Last week, we experienced two moving cases – one involving a lost cat that was returned to its owners thanks to exposure of its story on our Facebook page, and the second involves a dog that was stolen from its owners and returned to them one and a half years later.
One week ago, we received a report about a cat trapped in an abandoned store in Holon. An SPCA Israel representative immediately arrived at the site and rescued the beautiful red-haired cat. The cat appeared to be well-groomed and frightened. It had a green collar around its neck and our experience immediately told us that this was not a street cat but a house cat that might have gotten lost.
For several years, the SPCA Israsel has been managing an active Facebook that doubles as an interactive news channel through which we maintain contact with thousands of surfers. In order to help the sweet cat find its owners, we published its photo on our Facebook page alongside of a description of the incident and where it was rescued. We asked Facebook members to share the photo with their contacts and hundreds of friends did so, expanding exposure to the picture by thousands on the social network.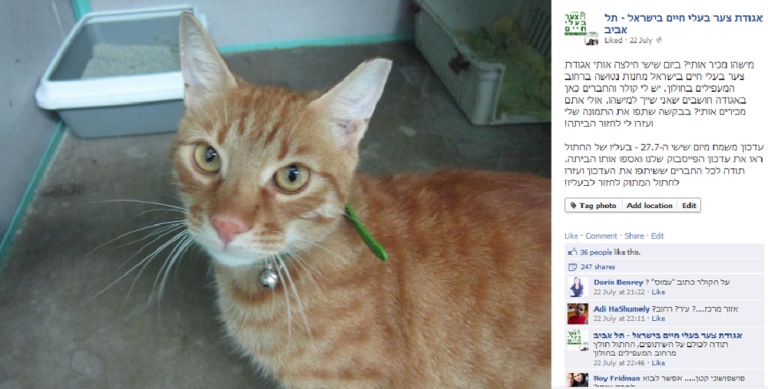 One day passed and another. The adorable cat was residing in our boarding facilities waiting for its owner. Despite having given it loving care, it was difficult to ignore its longing for home. The cat mewled, wept and missed its owners. Our experience told us that cats are well familiar with the area in which they lived, and know how to find their way home. The cat's behavior made it clear to us that every day in our facility was adding to its distress. After much deliberation and consultations, we decided to wait several more days and if no one comes for the cat, we would release it back in the area it was found in the hope that it would manage to return home to its owners.
We again published the cat's particulars on our Facebook page, which again was widely seen. To our tremendous delight, the Facebook effort succeeded! The next day, the cat's owners arrived at the SPCA and we learned that the cat's name was Piresky. The excited owners brought with them photos of the cat that proved that the cat was theirs. Piresky's joy and excitement at the reunion left no room for doubt. The owners took the cat home and we were overjoyed at this happy ending.
Our Facebook page is used for other purposes, including searching for homes for hundreds of dogs and cats that are in our facilities and that need a family. If you are interested in participating in this important activity, join us by clicking Like. Share their photos and help us help them!
Two days after Piresky returned home, a man arrived at the SPCA and asked to give up a two-year-old mixed pinscher that he claimed he found on the street. Thanks to a chip in the dog's body, we discovered that the dog's name was Pinuky and we immediately contacted its owners that were registered in the chip center – Gil Porat from Rishon le Zion. Gil was surprised, and said that Pinky had been stolen form him about a year and a half ago. He rushed to collect Pinuky from the SPCA and the reunion touched everyone at the site, employees and volunteers alike.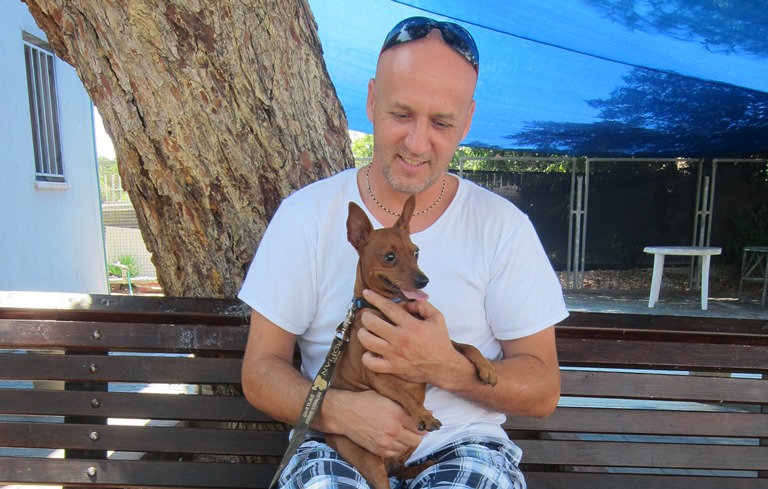 Unfortunately, similar cases do not always end with this kind of reunion. Many lost dogs are found in pounds and organizations without their owners being aware of this. Some never had a chip implanted and for others, the owners' particulars were never updated in the national chip center. If you are raising a dog, please make sure that the dog has a chip implanted and that the information on the chip is updated at the chip center.