Stern1 and The Society for Prevention of Cruelty to Animals in Israel - in aid of the Horses and Donkeys
On the occasion of the launching of the Virtual Guest House on the SPCA's internet site, a special event will be held in aid of the horses and donkeys undergoing rehabilitation in the Society, after being rescued from a life of suffering, neglect and abuse.
Stern1 and the SPCA invite you to drink, to enjoy the rich variety of beers and whiskeys served in Stern1 and to contribute to this worthwhile cause. The event will take place on Friday, 12 October, from 13:00 in the afternoon at Stern1, 1 Stern Street (corner of Yedidia Frankel) in the Florentine District, Tel Aviv.
Animal lovers and horse enthusiasts are invited to enter the Society's Guest House on the Internet, to read the horses stories, to choose a donation for specific treatments (food for a month, vaccination, hoof trimming, and so on) or to give a general donation for the horse who touched your heart, and to receive updates on its condition from time to time.
For contributions and further details please call *4553.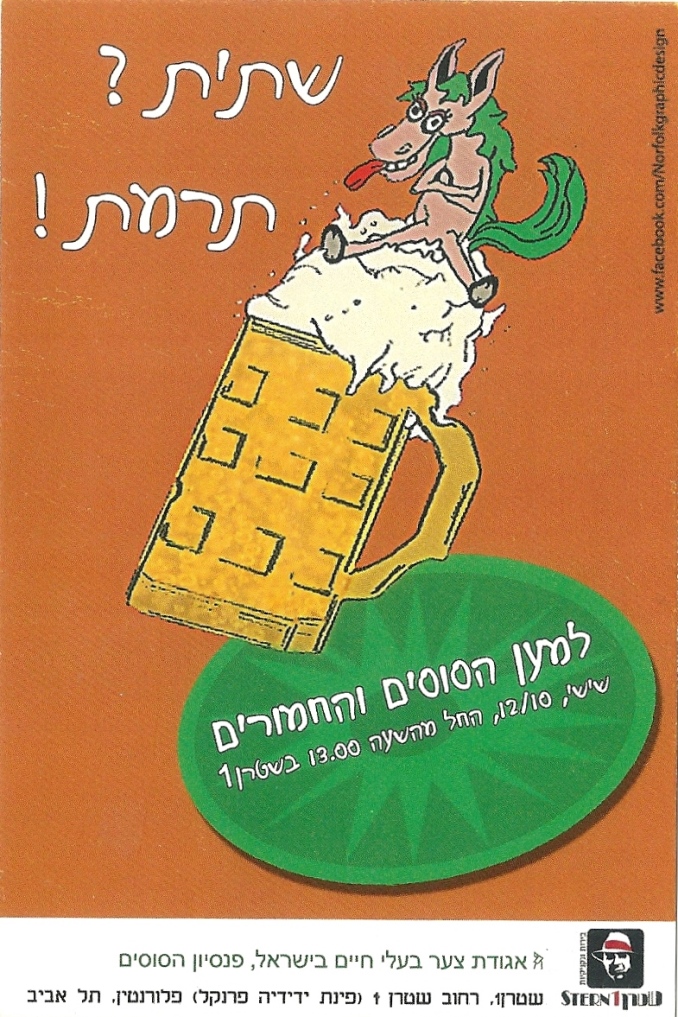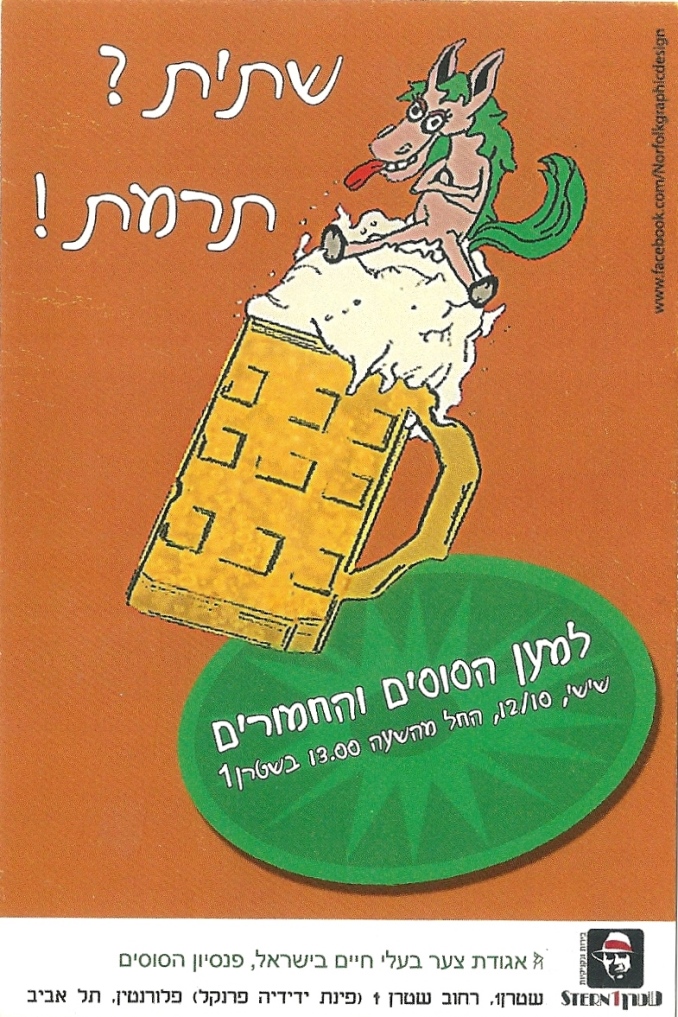 About horse rehabilitation in the Society
Since it was established, the Society for Prevention of Cruelty to Animals in Israel has unflaggingly worked for the welfare of all animals, including horses and donkeys. During the past five years more than 500 horses and donkeys have been rescued, treated and rehabilitated in the Society's facility. These animals lived under conditions of criminal neglect and some of them had suffered continuous and cruel abuse. The rehabilitation process for horses and donkeys is long and complex, involving high costs for quality food, medical treatment and comprehensive professional care. The average cost of keeping a horse and caring for it on a monthly basis comes to a total of a few thousand NIS. The contributions made to the Society help us to give these animals excellent care under optimal conditions.
Following their rehabilitation, the Society's staff makes every effort to find responsible and appropriate homes for the animals, so ensuring that they will never return to the cycle of suffering. To achieve this aim, every adoption of each horse or donkey is accompanied by a signed contract with the new owners.