Dubious Administration of Ramat Gan Municipality's Veterinarian Department
This week we were witness to yet another reminder of the authorities' rigid attitude towards anything relating to the miserable existence to which street cats are destined.
A Ramat Gan resident came across an emaciated, dying kitten near her home, suffering from severe eye infection and respiratory problems, and out of pity for the animal, she took him into her home. Following a conversation with the Municipal Veterinary Department, under the management of Dr. Shai Melman, an inspector was sent to her home.
The concerned citizen breathed a sigh of relief but to her amazement, once the inspector saw the kitten, he claimed that the only solution was to let the cat free in a different area since there was no point in taking him to the veterinarian department as they had no way to care for him there and that the only treatment would be to put him down.
The woman, who understood that the kitten could not survive on the streets and that the meaning of releasing him constituted a terrible and agonizing death, sent the inspector away and contacted the Society for Prevention of Cruelty to Animals in Israel. A patrol was immediately sent from the Society to pick the kitten up and bring him to the clinic. There, Dr. Ayah Peri, the Society's veterinarian, diagnosed that the two-month old kitten was suffering from Feline Herpes which causes mouth ulcers, preventing him from eating, He was also suffering from a severe eye infection causing sight-loss, and respiratory complications. In addition, the kitten was dehydrated and apathetic. With great regret it was determined that in order to put the kitten out of its misery, it should be put down by humanitarian means.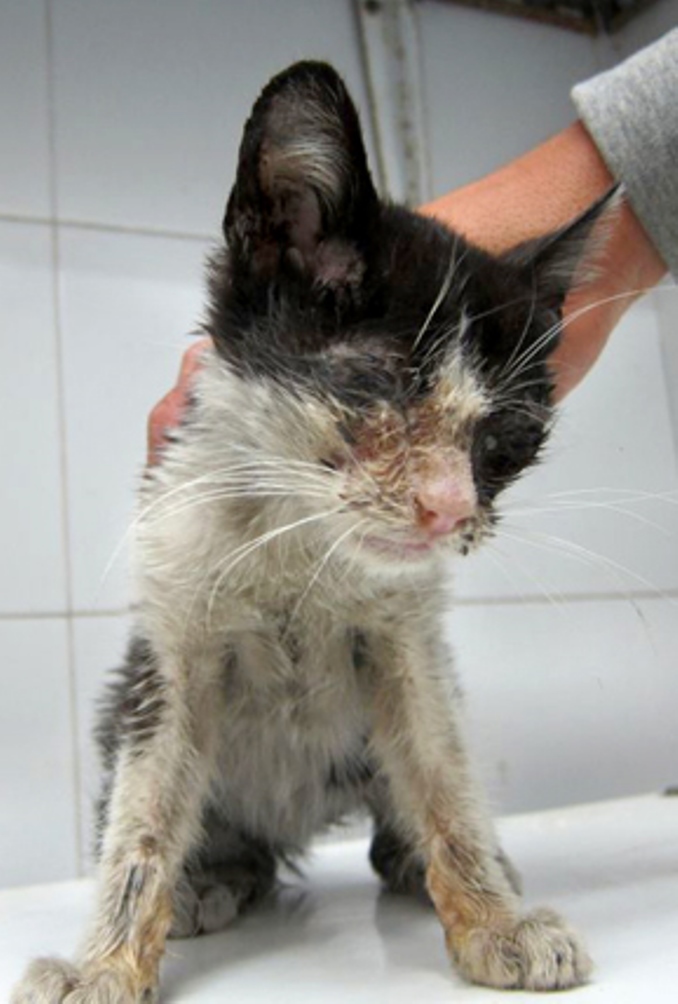 It is important to note that the State Comptroller's Report on the increasingly severe and sorrowful condition of street cats has recently been published. It seems that the policy of the Ramat Gan Municipality ignores the plight of the animals and continues to perpetuate the life of suffering for cats living within its area of jurisdiction. The harsh pictures of these cats speak for themselves, and the wish to release and abandon dying cats, which borders on abuse, cannot and should not be acceptable to any humane person of conscience, particularly any professionals with experience in this field.
Should you happen to come across animals in distress, please do not hesitate to call the Society's call center: *4553.