Purim Food Baskets with Specially Sweet Recipes
Purim is the happiest festival in the Jewish calendar. During the holiday we read the Scrolls of Esther, give gift baskets of food, give charity to the poor, dress up in fancy-dress costumes, hold the festive feast and fulfill the mitzvah, the good deed, of drinking alcohol and making merry.
The heroine of the Purim story is Esther, a strictly observant Jewess, who, in order to uphold the kashrut laws in the King's palace, kept a vegetarian diet, including pulses and grains. In remembrance of Esther's dedication, many people eat a vegetarian meal on Purim, including pulses, grains and sesame seeds along with sweet challah bread.
The food that most characterizes the Purim festival is the three-cornered 'Oznay-Haman' cookies, filled with poppy seeds. Over the years, varied explanations have been given for the source of this tradition, and many think that it comes from the Yiddish name for poppy seed pockets – "Mahan Tashen" (with the same letters that make up Haman's name).
In remembrance of the vegetarian queen and in honor of Purim, we present you with some recipes that will make your holiday even sweeter, including a special recipe for canine snacks! Please keep your sweet crumbs and leftovers away from your dogs and pamper them in the spirit of the festival, with snacks that are appropriate for their well-being.
Oznay Haman with Poppy Seed Filling
Courtesy of the Bishulim School of Higher Culinary Education. Photographed by Shiran Carmel
Pastry:
100 gr. Sugar (half cup)
200 gr. Butter
Pinch of salt
Vanilla essence
Zest of one lemon
Zest of one orange
1 egg
300 gr. Flour (1½ Cups)
Filling:
150 gr. Milk (3/4 Cups)
100 gr. Sugar (1/2 Cup)
50 gr. Honey (3 Tablespoons)
Zest of one lemon
30 gr. Cookie crumbs (1/2 Cup)
50 gr. Butter
200 gr. Ground poppy seeds (1 Cup + 2 Tablespoons)
35 gr. Light raisins (2 Tablespoons)
Method:
1. To prepare the pastry: With the K beater blend together the butter, sugar, vanilla essence, orange and lemon zest and salt till light and fluffy.
2. Gradually add the egg till it is incorporated into the butter mixture.
3. Add in all the flour at the electric beater's lowest speed and keep mixing till a uniform dough is formed.
4. Remove the dough from the electric beater, form a rectangle, cover with plastic wrap and place in the refrigerator for at least one hour.
5. To prepare the filling: In a pot, boil the milk, sugar, honey and lemon zest.
6. Add in the cookie crumbs, butter, poppy seeds and raisins, mix well and continue to cook for 5 minutes. Remove the pot from the flame and cool to room temperature.
7. To prepare Oznay Haman: Roll out the pastry till about 4 mm thick and cut out circles with a ring or large glass of 10 cms. diameter.
8. Place the pastry circles on the baking tray and spread the edges of each circle with a beaten egg.
9. With a teaspoon, place a small amount of filling in the middle of each circle, form a triangle by pinching with ones fingers and seal well.
10. Bake in the oven at 1650 for about 20 – 25 minutes.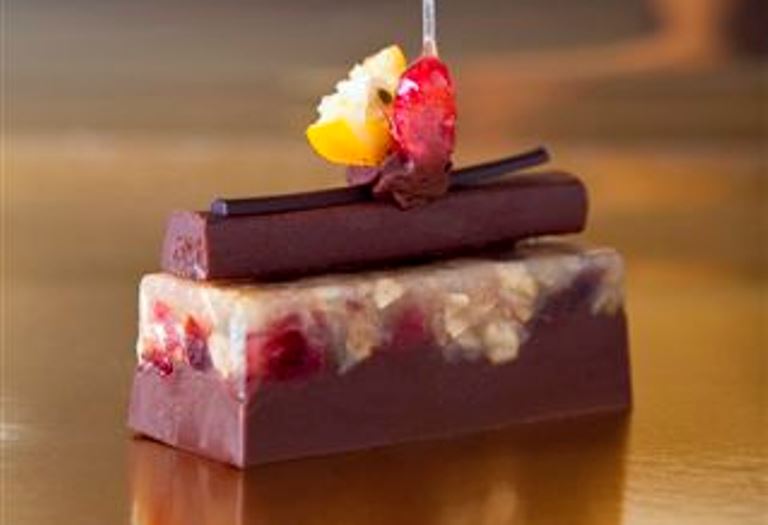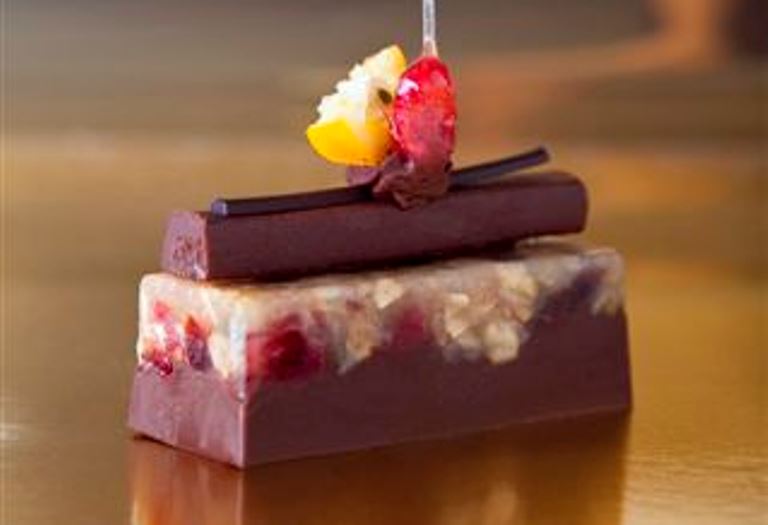 Granola and Chocolate Ganache Crunch Bars
Courtesy the chef-confectioner Efrat Libefroind
Approx. 30 pieces
Granola:
100 gr. Butter
½ Cup Honey
3 Tablespoons glucose
¼ Cup Brown sugar
1 teaspoon cinnamon
½ teaspoon salt
¼ teaspoon coconut
¼ teaspoon sesame seeds
1 Cup roasted almonds or pistachio nuts
1 Cup dried fruits – coarsely chopped
½ Cup dried cranberries
1 Cup oats
Ganache cream:
200 gr. Chocolate
200 gr. Sweet whipping cream
20 gr. Butter
4 tablespoons liqueur
Method:
1. Granola: Cook all the ingredients in a pot till they blend into a slightly sticky dough.
2. Spread the mixture on to a baking sheet 20×20 cm., or line the base of individual silicon baking trays.
3. Ganache: Cook all the ingredients together to form one mass.
4. Pour the ganache on to the granola and freeze for 2 hours (some of the ganache cream can be kept aside to decorate with cream stripes).
5. Slice into bars or remove from individual silicon trays.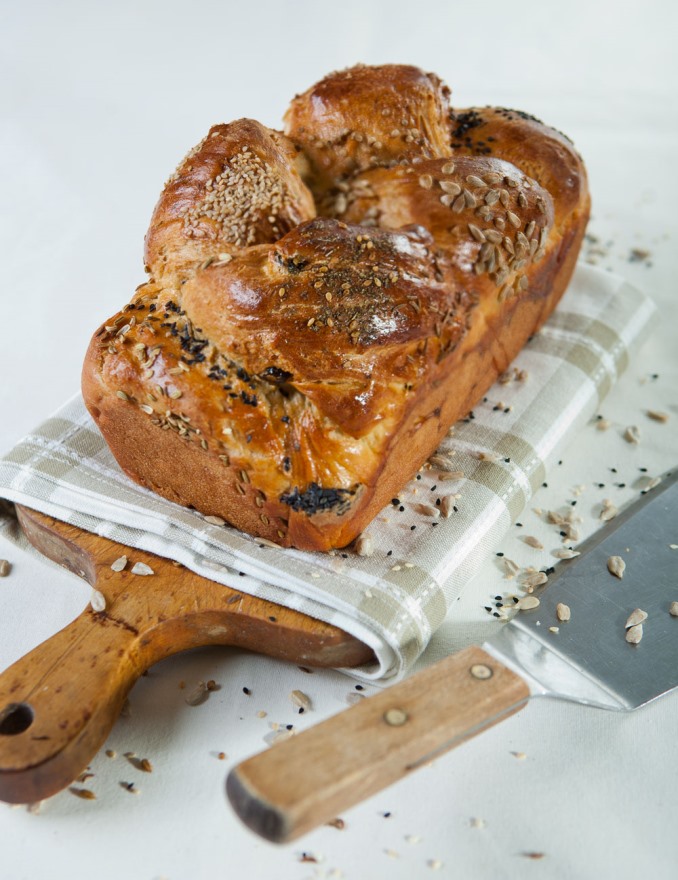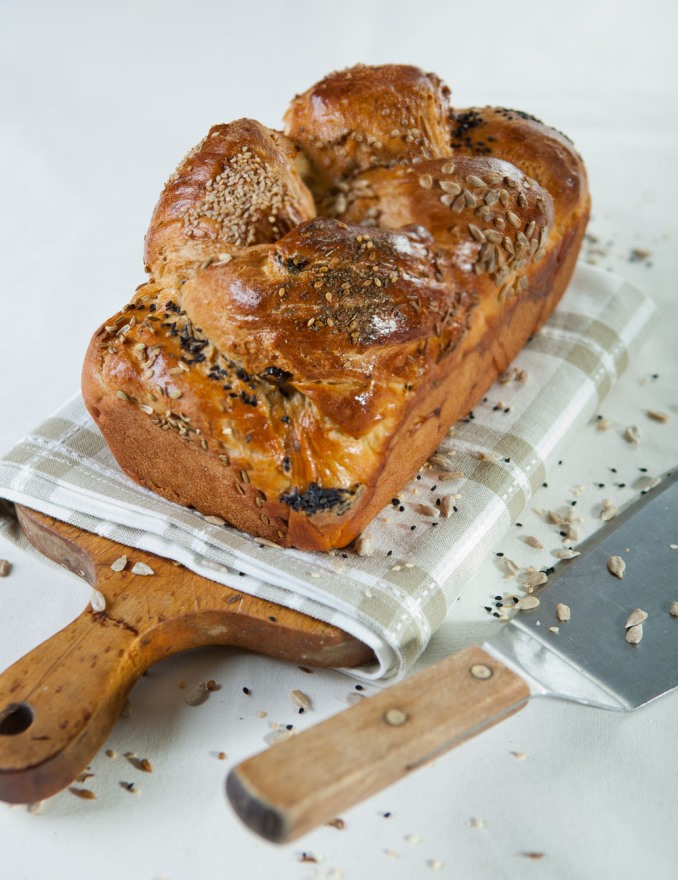 My Sweet Challah
From the book "Healthy Baking Made Easy", by Phyllis Glazer, Korim Publishers.
1 Challah (8-10 servings)
2 eggs
¼ Cup oil
¼ Cup cane sugar or honey
1 teaspoon salt
1 Cup warm water
2 Cups sieved 70% whole flour
2 Cups sieved organic flour, white spelt flour or white flour
½ pkt. "Shimrit" or 1 pkt dry yeast (approx. 1 tablespoon)
White flour for kneading
1 egg + 1 teaspoon water, for brushing
For decoration (optional): mixture of seeds and grains – poppy, caraway, sunflower, oats and pumpkin seeds
Method:
1. In medium bowl, mix the eggs, oil, sugar or honey, salt and water lightly with a fork.
2. In separate bowl, mix the flours and yeast with a wooden spoon.
3. Pour the egg mixture into the bowl with the flour and stir with a wooden spoon to form dough. If the dough is too sticky, add sieved flour, a little at a time (but not too much!). The dough should be slightly sticky inside but should not stick to the sides of the bowl.
4. Flour a working surface and place the dough on it. Knead the dough for five full minutes, till smooth but not sticky. Continue to flour the working surface, a little at a time (but do not add too much flour or else the dough will become heavy and dense).
5. Oil a bowl and place the dough in it, turning it gently till the whole surface is coated lightly with oil. Cover with clean dish towel and leave to rise in a warm place till it doubles in volume (approx. 45 mins).
6. Remove the air from the dough by giving it a sharp punch in the center. Let it rest for 5 minutes. Meanwhile, line a large baking tray with baking paper and heat the oven to 1800.
7. Form three rolls of equal size, press them securely together at one end and braid them. Press the other end securely together. Place on baking tray (a greased bread tin of 23×12 cm. or 25×15 cm. can also be used).
8. Brush the top with a mixture of egg and water. Grains and seeds may be sprinkled on top if desired. Bake for 25-30 minutes, till the challah begins to turn a rich brown (if some parts of the dough remain white during the baking, brush with the egg mixture). Remove from oven, allow to cool for 15 minutes and remove from baking tray.