All trains were stopped and a representative of the Society rescued a kitten from the danger of being run over
The birthing season, during which thousands of kittens are born in the streets, is felt very strongly at the Society for Prevention of Cruelty to Animals in Israel. Many citizens who encounter kittens in distress contact us and ask for our assistance in rescuing them. Thus, in recent weeks we rescued cats from busy streets, wells, hollow tree trunks and other strange places.
Yesterday the offices of the Society received a telephone call from a passenger on the Israel Railway who wanted to warn us about a kitten on the train tracks of the busiest train station in Israel, the Shalom Station in Tel Aviv. As soon as the call was received a representative of the Society was dispatched to the train station in order to rescue the kitten, and at the same time the spokeswoman for the Society contacted the offices of the railway management and asked them to stop all train movements.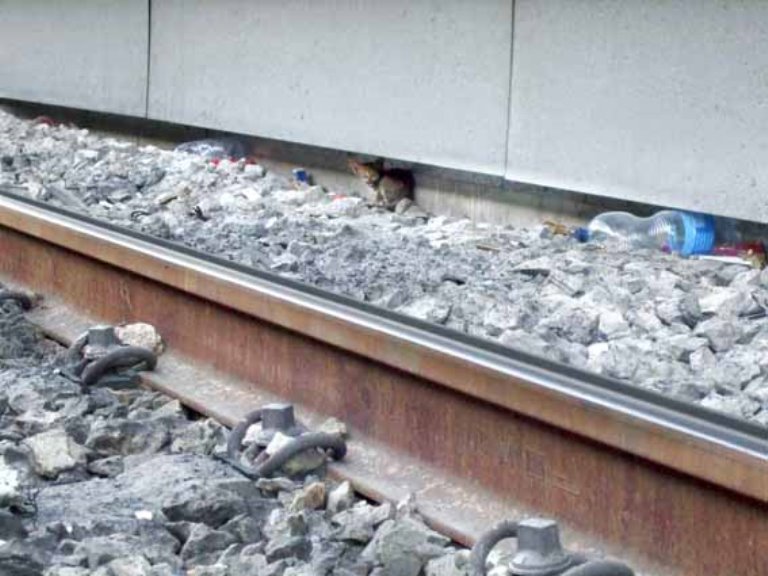 All the trains were stopped for a number of minutes while a railway worker tried to catch the kitten, with all the travelers looking on, but without success. The trains began to run again, but luckily the kitten was not run over. The Society's representative got to the railway station a few minutes later, the trains were stopped again, and the representative succeeded in catching the kitten quickly, to the cheers of the crowds of passengers at the station.
The two month old female kitten was brought into the Society's veterinary clinic to be examined and was found to be healthy and especially friendly. In another month it will be a candidate for adoption, and anyone interested in adopting it is invited to contact the Society to receive further information.