Fallen in love with a half-breed puppy? When he is fully grown, his size will affect the whole family
Na'ama Rolnik, SPCA Adoption Counselor and dog trainer 
Most abandoned dogs that reach the various dog pounds and shelters are half-breeds, a great many of them puppies, and one cannot always tell exactly how they will look when they are fully grown. There are some indications that help us to assess more or less the height and weight of the adult dog, such as their paws in relation to the rest of their bodies, or their present physical size in comparison with other puppies their age. Such estimations can only be carried out on the basis of professional experience, and so many people who come to adopt such a dog have difficulty imagining the final size that the dog will reach and as a result, often err in their choice.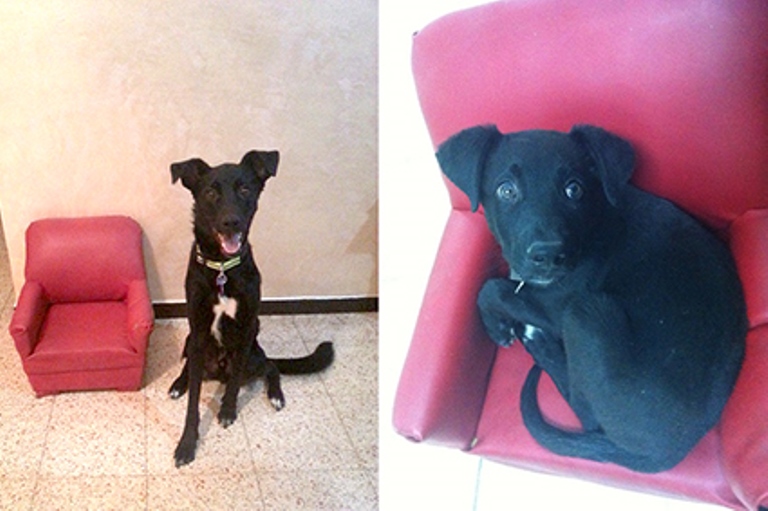 The size of the adult dog is one of the important points that a family with children should take into account. In cases when the parents are planning that the kids will take the dog out for walks, they should choose a dog of suitable dimensions, one that the children will be able to lead and not the other way around. In addition, it is important to know that larger dogs generally demand more exercise. A dog weighing 20 kilos in comparison with a child weighing 10 kilos more, does not add up to equal strength; a dog has greater muscle mass than a child, therefore the chances are that when the dog sees something interesting on the other side of the road, it will pull in that direction and it is not certain that the child will be able to stop it.
In such a situation, either the child will let go of the leash, putting the dog at risk crossing the street alone, or the child will fall and is liable to get hurt, or at least grazed, by the time the dog decides to come to a halt.
During my work as an adoption counselor in the SPCA, I have come across very many cases of families adopting puppies with only some rough idea as to their future size, and then, some months later, returning them to us on the grounds that they are too big. Therefore, I recommend that families wishing to adopt a dog take some parameters into consideration, such as who will be the principle care giver of the dog, the size of the home and of course, the time and energy that all members of the family are willing to devote to the dog.
We in the Society for Prevention of Cruelty to Animals in Israel provide consultation at every adoption, both by means of adoption counselors, responsible for the adoption process, and also by our veterinarians. In other adoption cases, in order to prevent suffering both to the family and, especially, to the dog, we recommend applying for professional advice.
Main photo: Na'ama with her dog Laney at one-and-a-half months and at ten months old.