13 dogs from one family were abandoned and are now looking friendly homes
This week 13 mixed pinschers arrived at The Society for Prevention of Cruelty to Animals in Israel. All of the dogs belong to one family, including the mother and several young puppies.
The person giving the dogs, and who raised her beloved dog, didn't spay her dog, and for years, the dog became pregnant, gave birth to litters of puppies. The woman kept several puppies from each litter. After the final litter, the woman tried to keep all of the dogs but decided this week, according to her, that she was no longer able to bear the financial burden of raising them.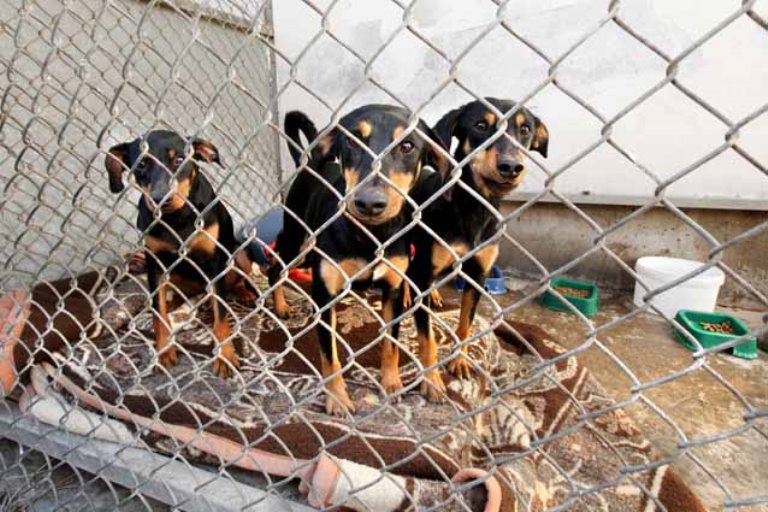 This, unfortunately, is not an isolated case. Many unwanted puppies are forced to begin their lives in cages, frequently separated from their mother at too young an age. The SPCA receives many puppies that were born as a result of their owners' irresponsibility concerning the maternal dog. The owners do not spay their dogs or cats, allowing them to become pregnant and then finding it difficult (if they even try) to find homes for the puppies.
Furthermore, in many cases, the puppies that have found homes continue to be passed on, since the new owners take them in due to momentary enthusiasm but abandon them in light of the difficulties in raising them.
We offer owners who give us young puppies a subsidized or free spaying of their dogs, but the owners frequently refuse, thereby sealing the fate of additional future unwanted puppies that will be born only to be abandoned.
The mother and the puppies, ranging in age from eight months to two-and-a-half years, are slowly adapting to their new environment at the SPCA and are waiting for new loving homes. The adorable dogs would obviously prefer arriving in a new home with a sibling but anyone who wants to adopt any one of the dogs is invited to arrive and provide them a warm home.